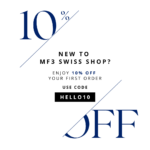 NOTICE:
SELF-PICK-UP OPTION AVAILABLE IN HONG KONG!
A self-pick-up option is now available for customers in Macau & China. To choose this pick-up option, please fill in your particulars and input the following address as your SHIPPING ADDRESS on mf3swiss.shop during checkout:
Nexgen Biopharma Limited
Unit 1008, 10F, Lemmi Center, 50 Hoi Yuen Road, Kwun Tong, Kowloon, Hong Kong
Please note that collection can be made on weekdays from Monday to Friday (except during public holidays), between 10AM-1PM and 2PM-4PM.
EXCLUSIVE PICK-UP SELECTION!
Make a purchase of USD 450 or more on mf3swiss.shop and enjoy the best of both worlds – online shopping convenience and the opportunity to personally pick up your order from our Exclusive Pick-Up Selection! ✨
To choose this pick-up option, please fill in your particulars and input the following address as your SHIPPING ADDRESS on mf3swiss.shop during checkout:
📍 Venue: MF3 Cosmoprof Exhibition at Hong Kong Convention and Exhibition Centre, 1 Expo Dr, Wan Chai, Hong Kong
🕒 Booth: 1E-H6B | Pick-Up Timing: 10.30 AM – 5 PM
Elevate your experience today; shop now for your MF3 favorites at mf3swiss.shop
*Terms & Conditions Apply
1. This promotion is exclusive to purchases on mf3swiss.shop with a minimum spend of USD 450.
2. Items bought under this promotion are final sale and cannot be refunded or exchanged with other orders at the booth.
3. Self pick-up is available only from November 15th to 17th, 2023, between 10.30 AM and 5 PM at Booth 1E-H6B in the MF3 booth. Collections outside the booth are not permitted.
4. Please note that a valid event tag is required for entry to the Cosmoprof Exhibition event.
5. MF3 Global Ecommerce reserves the right to modify the terms and conditions without prior notice.
6. For additional information or assistance, please contact info@mf3swiss.shop