By purchasing this product, you can earn points based on a percentage of cart total. You will come to know the earned points information once you add the product to cart.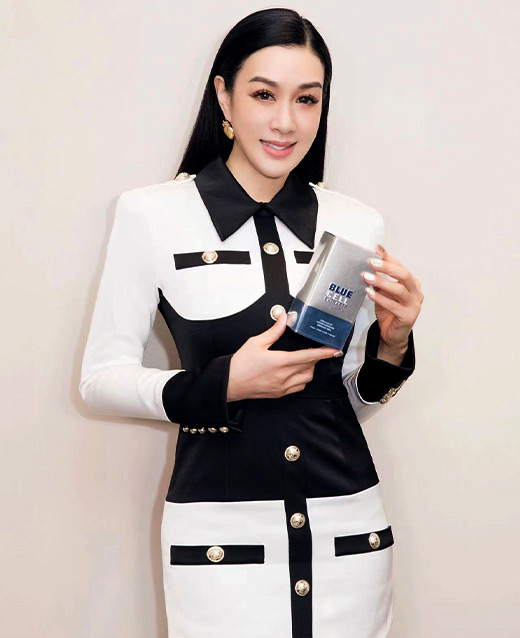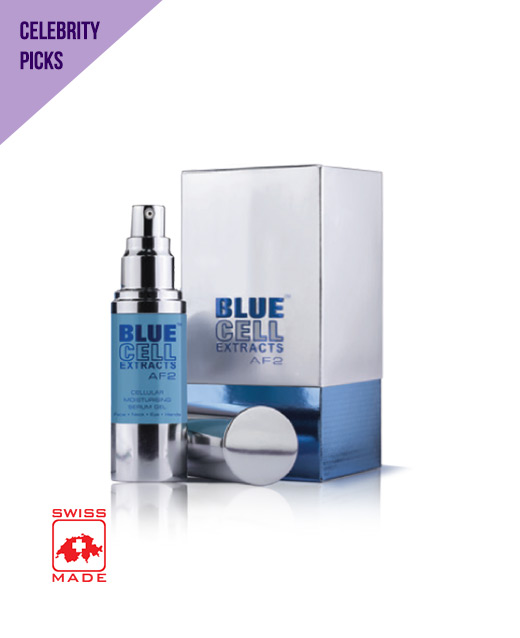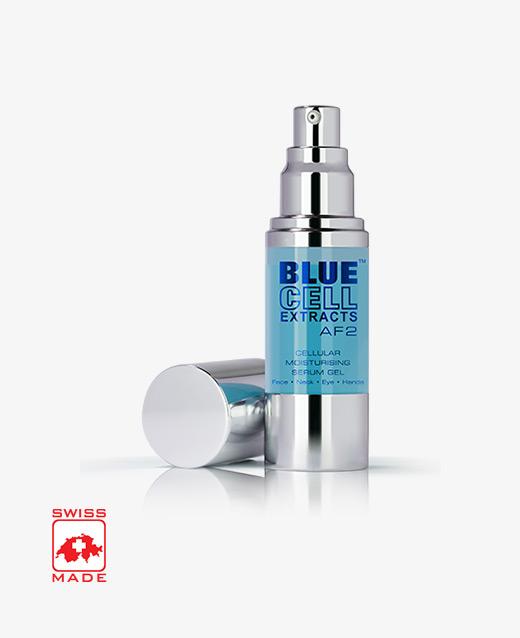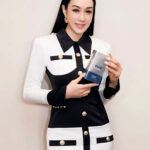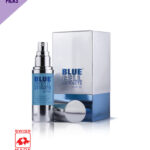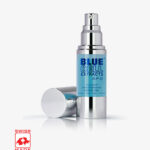 Bluecell™ Extracts AF2
$289.00
Innovative aesthetic therapy derived from plant and marine bio-actives.
Compare
Description
Recommended Usage
Additional information
More Offers
Description
BLUECELL Extracts AF2 is a full spectrum anti-aging and moisturizing gel serum, formulated with OxygeninTM, Microalgae extract, and botanical extracts, and infused with probiotic ingredients.
It nourishes the skin with essential nutrients, promotes a healthy skin barrier, maintains skin hydration, and offers a lifting and firming effect for youthful, healthy-looking skin.
Firming & lifting effect
Deliver oxygen to the skin
Accelerate wound healing
Pumping up the skin-renewal process
Breathable skin & improve blood flow
Provide maximum skin hydration
Support maintenance & production of elastin & collagen
Oxygenin™ (Inert molecule)
Dissolves and delivers oxygen to the skin, which revitalizes it and reduces wrinkles, while increasing the partial pressure of oxygen. Improves the skin's barrier function.
Collagen Elastine HME (Marine Collagen Elastin)
Stimulates collagen synthesis and promotes skin hydration.

Sodium Hyaluronate (Hyaluronic Acid)
Powerful humectant that restores skin moisture, promoting a revitalized complexion and reducing signs of aging in the process.

Hydrolysed Lecithin (Soy)
Serves as an emollient and penetration enhancer. Promotes the restoration of the barrier function of the skin to prevent moisture loss from the deeper layers.

Hydrolysed Soy Protein (Soy)
Regenerates, moisturises and nourishes skin.

Hedera Helix Ivy Extract (Ivy Flower)
Promote skin hydration and relieve skin inflammation.

Chamomilla Recutita Extract (Chamomile)
Promotes natural skin moisturisation, soothes inflammation, and promotes wound healing.

Retinyl Palmitate (Vitamin A)
Exhibits anti-aging properties and antioxidant protection, boosts skin cell turnover, and promotes regeneration of collagen and elastin.

Tocopherol (Vitamin E)
Protects skin against free radicals, neutralizes environmental stressors and prevents premature aging.

Nannochloropsis Oculata (MicroAlgae)
Provides a protective shield against oxidative stress, stimulates the formation of collagen and provides a long-term firming and tightening effect.

Pullulan (Fungus)
Contains essential antioxidants, retains moisture, and provides lifting and filling effect.

Lactobacillus Ferment (Lactobacillus fermentaiton)
Enhance cellular renewal and speed repair to strengthen and renew skin and to protect the skin against environmental aggressors.

Soy Isoflavone (Soy Bean)
Brightens skin, evens skin tone, reduces skin inflammation, boosts collagen
production, and improves skin elasticity.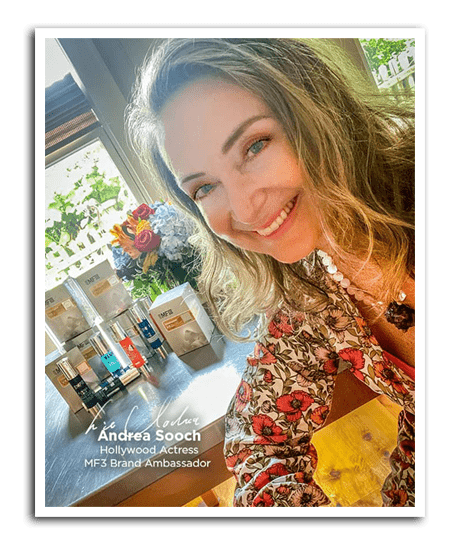 IG: @elsieyeo
Moisturising is always the key to prevent wrinkles! Officially adding the Bluecell extracts AF2 from @mf3swiss into my daily skincare routine! 💦
The Bluecell extracts AF2 is Swiss made and formulated with OxygeninTM, Microalgae extract, botanical extracts and infused with probiotic ingredients. It strengthens our skin barrier and provides a long-lasting hydration effect 💯
https://www.instagram.com/p/CSYXVgilbpG/
—-
It's my third month using @mf3swiss Bluecell Extracts AF2 gel serum💦 Half of the bottle is already gone 🤪 I love how plump my skin is after using it. It's super great for anti-aging and it provides our skin with all the essential needs. Say bye bye to wrinkles now👋🏻
This product is recommended/featured by medical specialists and researchers in the following publications/clinical trials: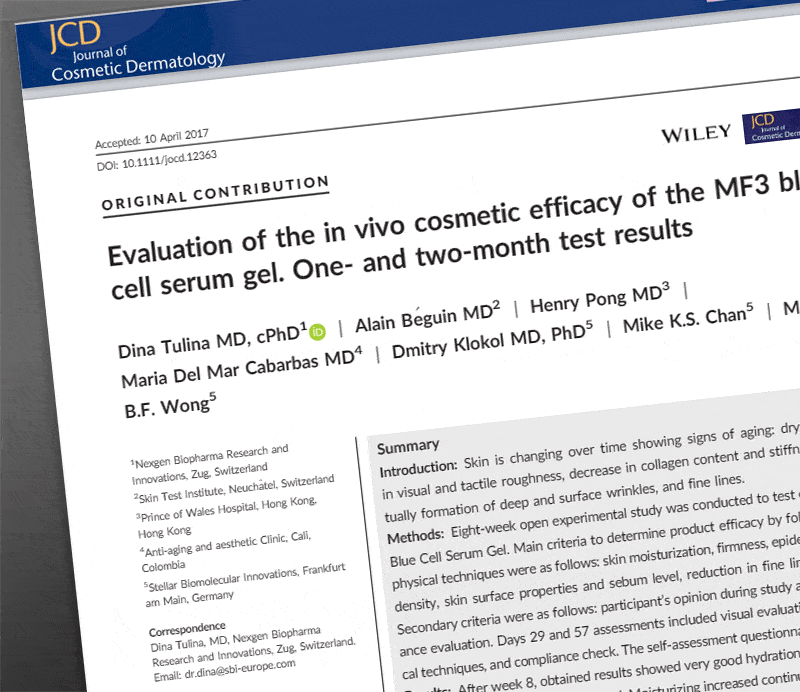 Evaluation of the in vivo cosmetic efficacy of the MF3 blue cell serum gel. One- and two-month test results
Eight-week open experimental study to determine product efficacy
Author/s: Dr. Dina Tulina, Dr. Alain Béguin, Dr. Henry Pong, Dr. Maria Del Mar Cabarbas, Dr. Dmitry Klokol, Prof. Dr. Mike Chan and Prof. Dr. Michelle Wong
Publisher: A cosmetic efficacy study at Nexgen Biopharma Research and Innovations, Switzerland. 22 June 2017
Published url: http://onlinelibrary.wiley.com/doi/10.1111/jocd.12363/full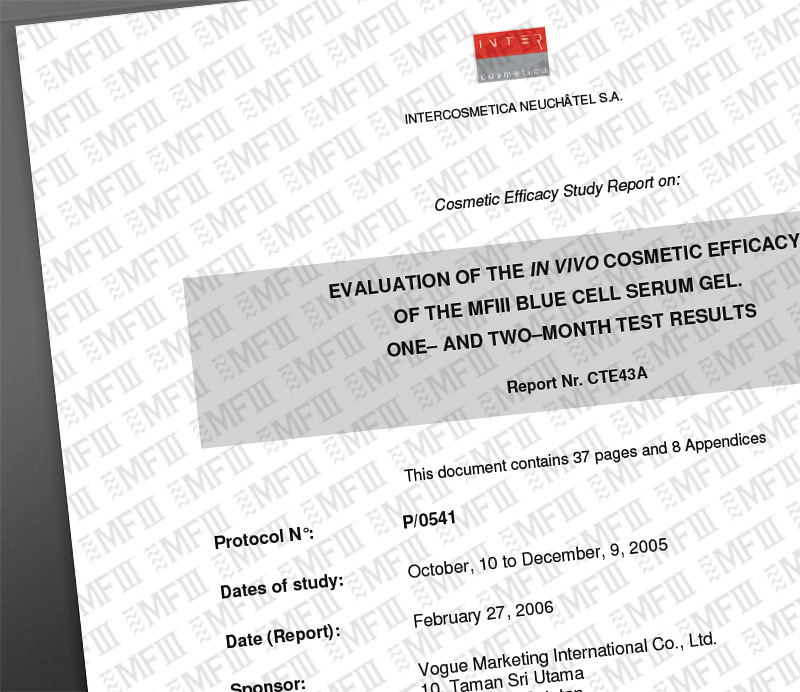 Evaluation of the IN VIVO cosmetic efficacy of the MF3 Blue Cell serum gel. One- and two-month test result.
A clinical study
Author/s: Dr. Alain Béguin, in colaboration with Prof. Dr. Mike Chan
Publisher: Skin Testing Department, Switzerland. 27 February 2006, Report Nr. CTE43A
Apply to face and neck once to twice per day after cleanser or toner.
Single pack, 30ml
Additional information
| | |
| --- | --- |
| Weight | 0.5 kg |
| Dimensions | 7.35 × 7.35 × 14.3 cm |
No more offers for this product!