By purchasing this product, you can earn points based on a percentage of cart total. You will come to know the earned points information once you add the product to cart.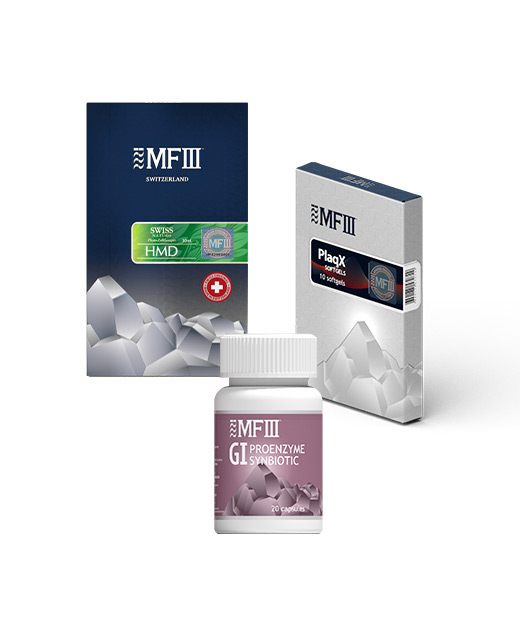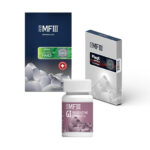 Toxin Elimination
$324.00
Toxin Elimination Lifestyle Combination beginner's pack: 
Swiss Naturo HMD (30ml)
+ GI Proenzyme Synbiotic (20 capsules)
+ Plaqx (10 softgels)
Compare
Compare
Description
Recommended intake & routine
Contraindication
Additional information
More Offers
Description
Toxins are defined as any substance or element that is toxic to the body. The environment today and normal cellular metabolism exposes the body to toxins. In order to maintain health, our MF3 Toxin Elimination can help in ease out toxins from the body.
Swiss Naturo HMD (30ml) :
Formulated with a plant-based detoxifier such as Kalonji, Green Algae, Cilantro and amino acid, Acetylcysteine, each ingredient plays an important role in supporting the body's normal detoxification process by neutralizing free radicals. It works by mobilization of heavy metals from tissue to the circulatory system to stimulate glutathione and the conversion of toxic metals to their non-toxic state via the formation of metal complexes and conversion into their reduced forms.
More info, visit mf3swiss.com/swiss-naturo-hmd
GI Proenzyme Synbiotic (20 capsules) :
An improved formulation designed with proteolytic enzymes, multiple strains of probiotics and prebiotics that work together, in synergy, to support gastrointestinal health and systemic immune functions. It can regulate the immune system by neutralizing the rogue proteins in the blood that can trigger immune responses, remove pathogens and harmful microorganisms, and restore the gastrointestinal tract, good microbiota, and mucosa.
More info, visit mf3swiss.com/gi-proenzyme-synbiotic
Plaqx (10 softgels) :
A unique formulation derived from natural, non-GMO soy to help clear out plaque, effectively acting as a personal clean-up crew for the blood vessels. It aids in maintaining the cell membrane integrity, reducing intestinal cholesterol absorption, enhancing reverse cholesterol transport, and removing fatty and hardened plaque from blood vessels which are transported to the liver, where it will be redistributed to other tissues or excreted out from the body by the gallbladder. By enhancing the reverse cholesterol transport, it will lower LDL cholesterol and triglycerides levels in the blood serum.
More info, visit mf3swiss.com/mf3-plaqx
1 month course (preventive & maintenance) – long term
1st 10 days to reduce toxin in the body: 1ml (15drops) of Swiss Naturo HMD mixed with warm water per day, 30 minutes before breakfast.
2nd 10 days to improve digestive system: 1 capsule of GI Proenzyme Synbiotic, 30 minutes before breakfast and another capsule, 2 hours after last meal
3rd 10days to normalize total cholesterol: 1 softgel of Plaqx, 30 minutes before meal
Make sure there is a gap between the consumption of supplements, a minimum of 30 minutes before taking the next one.
Consult your physician if you take any medications before consuming our products.
Pregnant, lactating mothers or with medical conditions, kindly consult a physician before consuming our products.
Protocol of consumption is only a general rule of thumb. For personalized nutritional advice, kindly seek our nutritionist advice at nutritionist@mf3swiss.com.
No more offers for this product!