By purchasing this product, you can earn points based on a percentage of cart total. You will come to know the earned points information once you add the product to cart.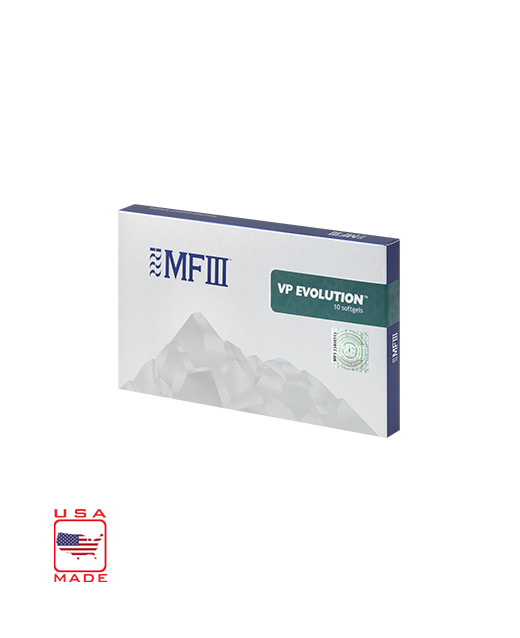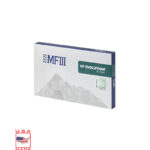 VP Evolution Mini
$132.00
Enhanced formulation of Vegetal Placenta Extracts with botanical ingredients for skin rejuvenation, cellular renewal, cardiovascular health, and complete wellness.
Rebuild, Rejuvenate and Renew
• Higher concentration of active ingredients
• Stronger potency formulation* for optimum bioabsorption
• High nutrient contents with a wide range of health benefits
* in comparison with AF Series formulation.
Box of 10 softgels
SKU:

VP-EVO-mini
Categories: Cardiovascular Health, Energy / Stamina, Evolution Series, Healthy Aging, Hot Celebrity Picks, Menopausal Syndrome, Mini Pack, Nutrition, Overall Wellness, Skin Hydration, Skin Whitening, Supplements, Wrinkles, Youthful Skin
Compare
Description
Recommended Intake
Additional information
CERTIFICATION
Reviews (7)
More Offers
Description
VP Evolution or VP EVO is an enhanced version of VP Advanced Formula Softgels manufactured in the USA.
It combines the benefits of vegetal placenta extracts and two types of potent antioxidant from botanical sources. VP EVO brings essential nutrients to the human body with a list of selected ingredients, to ultimately help you in improving your wellness through skin and cellular rejuvenation and revitalization. It supports cellular damage repair caused by environmental factors and aging, boosts collagen and elastin production and improves natural metabolic processes for better cardiovascular performance and healthier features.
Healthy cardiovascular
Regulate hormonal imbalance
Reduce Post-menopausal symptoms
Anti-aging
Healthy skin
Overall wellness
Vegetal Placenta Extracts (Dermacenta Plus™) is a proprietary ingredient consisting of a blend of bioactive compound extracted from young bud of Non GMO Soy, Lepidium meyenii, Vitis vinifera and Panax. Each capsule of VP Evolution contains extraction ratio equivalent to 14,000mg of vegetal placenta. Vegetal placenta is extracted from the young bud of a botanical plant; it is composed of similar amino acids, peptides, antioxidant and essential nutrients as in animal placenta. The bioactive compound in vegetal placenta helps to induce growth factor which is essential for cellular growth and cellular process. Vegetal placenta also contains naturally occurring Isoflavonoids that offer several health benefits, including reducing the risk of heart disease, helping maintain healthy bones and ease menopausal symptoms. The bioactive content from the botanical extract of a young bud also offers tremendous antioxidant properties hence able to inhibit the cellular damage caused by free radicals.
Phytowhite Tripeptide is a biologically active non-protein thiol compound present in all cells. It was produced by means of cultivation of strain belonging to the genus of Saccharomyces cerevisiae, Candida utilis and glucose as a substrate, wherein the compound is extracted from microbial cells. Phytowhite Tripeptide plays a crucial role in various metabolic processes such as DNA synthesis and repair, protein synthesis, amino acids transport and enzyme activation. The level of Phytowhite Tripeptide in the cells affects the performance of every system in the body such as immune system, gastrointestinal system, respiratory system, cardiovascular system, central nervous system and cell proliferation. Furthermore, Phytowhite Tripeptide also helps in the cell protection against the dangerous effects of free radicals, and effectively whitens and improve overall skin conditions.
Ubiquinol is an advance form of CoQ10, an active antioxidant in the most bio-absorbable form. Coenzyme Q10 is a fat-soluble vitamin compound that can be found nearly in every cell of the body, especially the heart, liver, muscles and kidneys. It exists in oxidized form (Ubidecarenone) that is essential for cellular energy metabolism, and reduced form (Ubiquinol) that is essential for antioxidant function. When Ubidecarenone is used in the body, it transforms and becomes Ubiquinol; in the same way, Ubiquinol becomes Ubidecarenone when it carries out its role in the body. This conversion takes place to maintain a state of equilibrium and is reversible. But some studies suggested that Ubiquinol have better bioavailability and transportability compared with Ubidecarenone.
This product is recommended/featured by medical specialists and researchers in the following publications/clinical trials: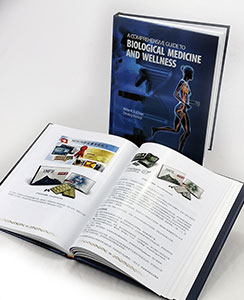 A Comprehensive Guide To Biological Medicine And Wellness
Author/s: Prof. Dr. Mike Chan and Prof. Dr. Dmitry Klokol
Published by Matador, Troubador.co.uk, London.Medical Research: ISBN 978 1789015 249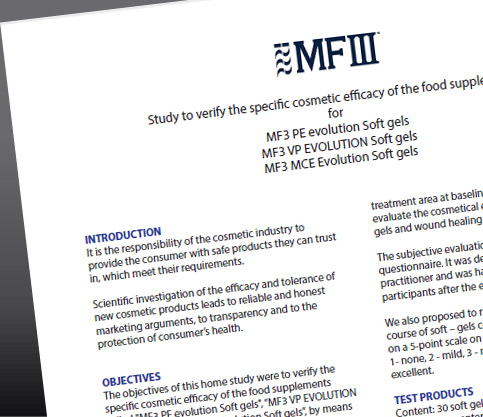 Study to verify the specific cosmetic efficacy of the food supplements for
MF3 PE Evolution Softgels
MF3 VP Evolution Softgels
MF3 MCE Evolution Softgels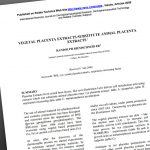 VEGETAL PLACENTA EXTRACTS SUBSTITUTE ANIMAL PLACENTA EXTRACTS
A research paper
Author/s: Prof. Dr. Randolph Riemschneider, Institute of UFSM , Santa Maria, RS, Brazil
Publisher: International Electronic Journal on Dermopharmacological Research,
Dermopharmaceutical Technology and Related Cosmetic Subjects: Issues, Articles 2008
Published url: http://www.relata.info/en/Issues/vegetal-placenta-extracts-substitute-animal-placen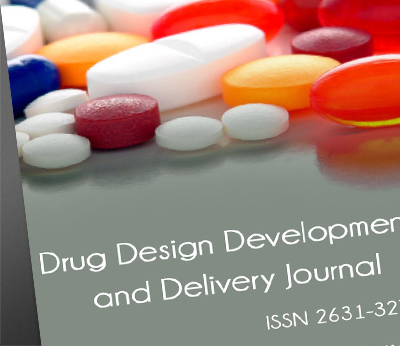 Efficacy of Botanical Derived MF3 VP Evolution Softgels for the Maintenance of Cardiovascular, Liver and Kidney Health:
A Case Report
Author/s: Dr. Shing Yi Pan, Yvonne Cashinn Chia, Dr. Dmitry Klokol, Prof. Dr. Mike Chan, Prof. Dr. Michelle Wong and Dr. Vladymyr Chernykh
Publisher: Drug Design Development and Delivery Journal 2018, ISSN 2631-3278 Volume 1, Issue 2
Published url: https://www.boffinaccess.com/open-access-journals/drug-design-development-and-delivery-journal/DDDD-1-106.pdf
1 softgel daily, ½ hour before meal, preferably in the morning on an empty stomach / Maximum 2 softgels daily
Box of 10 softgels
For further consultation on the supplements, please email your inquiry to nutritionist@mf3swiss.com.
Certified Halal by the Islamic Services of America (ISA), USA. View Cert
"Skin is visually supple and a sense of well being rejuvenated from within. From the very first capsule, you can feel the difference. "
– Jason Yeo, Singapore
"My skin starts glowing"
– Phoebe Tran, Malaysia
"My nail and my hair healthy"
– Siriporn Wongakrakul, Thailand
"I have been using MF3 over a year, I often go to Mirako spa and they introduced me to it. Then I decided to purchase 3 boxes, after 3 months later, I think it helps me a lot such as I feel like I have more energy and I feel my skin changes. My skin is more radiant and firmer, among my friends told me that my skin has been changing a lot. After work and school all day long, i do not feel tired like before. I think this supplement helps me improve health, skin tone and skin texture. My skin is getting better even I have a lot of stresses, it is also getting whiter. I recommended MF3 to my family and my friends, they told me that they feel stronger, healthier and their skin are getting brighter. I think the new version VP Evolution is better than VP Softgels AF because the ingredients are better. I hope in the future, your company will make new versions with better ingredients"
– Vi Vo Tuong Ho, United States
"I love it. It's very good."
– Thi Phuong, Alameda
"It helps me for blood pressure and blood circulation, the most enjoyable part of it is this product make me look younger than my age and I always recommend it everywhere."
– Ajibola A., United Kingdom
"Feel heathier"
– Katie, United States
No more offers for this product!