By purchasing this product, you can earn points based on a percentage of cart total. You will come to know the earned points information once you add the product to cart.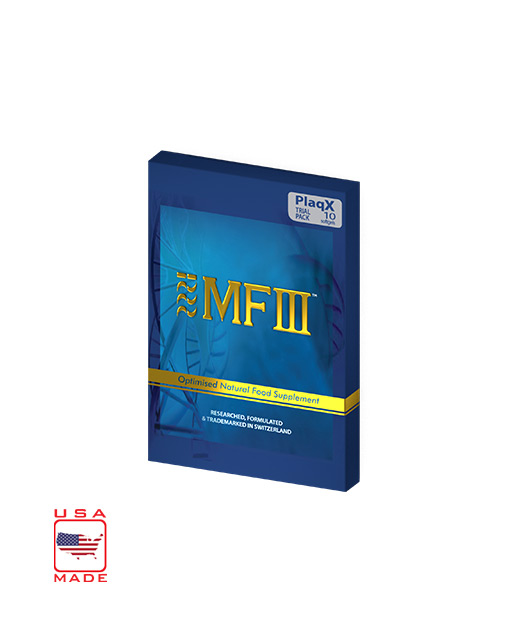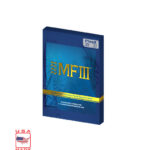 PlaqX Mini
$97.00
Revealing PlaqX's potential for beauty and longevity.
Pack of 10 Softgels
Compare
Compare
Description
Recommended Intake
Additional information
Reviews (3)
More Offers
Description
A revolutionary Swiss-based treatment, MF3 PlaqX has been used for 55 years in about one-fourth of the world's countries. It was originally developed to treat liver disease and dissolve fatty embolus during and after trauma surgery. In the 1990s, it evolved into a potent solution for plaque deposits.
When doctors observed their patients administered with this treatment, they also discovered that over time, those under their charge looked younger and healthier – revealing PlaqX's potential for beauty and longevity.
Our blood vessels transport oxygen and vital nutrients to various parts of the body. Hindering this basic, life-supporting functionality are deposits we call plaque, which accumulates over time from substances such as fat and cholesterol. Plaque causes the blood vessels to get clogged up, resulting in serious and potentially fatal diseases – including strokes and heart attacks.
MF3's PlaqX and PlaqX Extra are specially formulated to help clear out this plaque, effectively acting as a personal clean-up crew for our blood vessels!
Clears out plaque
Normalizes total cholesterol
Increases HDL (High Density Lipoprotein)
Improves liver function
Rejuvenates all cell membranes
Natural, derived from non-GMO soy
Lowers LDL (Low Density Lipoprotein) and VLDL(Very Low Density Lipoprotein)
Lower triglycerides
Maintain healthy kidney function
Easy to consume
Effectiveness
Highly effective for liver functions and cell membrane structure.
Effective in increasing systemic choline concentrations.
Increase Phosphatidylcholine level in the body.
USP
 A higher concentration of high purity Phosphatidylcholine.
High concentration Phosphatidylcholine.
 Bioactives & Active Ingredients
 Phosphatidylcholine
 Active ingredient dosage per capsule
 1200mg
 900mg
 Recommended dosage Per day
 1 softgel
 1 – 2 softgels
1 – 2 softgels per day. Preferably taken at different times to achieve a better absorption rate and bioavailability throughout the day.
Pack of 10 Softgels
"I have been diagnosed having plaque accumulation in the blood vessels. Cardiologist has suggested to perform angiogram in order to remove the plaques. I have been facing some breathing difficulties and felt increased body fatigue. So, I came for a yearly full medical examination at Golden Horses Health Sanctuary (GHHS Health Screening Center) on 28th February 2020. During that time, I got to know that GHHS has expanded European Wellness therapies equipped with German-Swiss technology. After reviewing my medical report, Dr Kor, the in house doctor suggested me to take MF3 PlaqX as the 3 months supplements. Agreeing to the same, I intended to try taking this supplement before proceeding further for the angiogram.
Remarkably, the first week after taking the MF3 PlaqX I could see changes in me. I have noticed that my fatigueless was decreasing gradually and my blood pressure has been reduced. Therefore, I continuously took the supplement for 3 months. I am glad that I have been introduced to the supplement by Dr Kor from GHHS-EWR and eagerly waiting to follow up."
– Lee Ean C., Malaysia
"I have high cholesterol in my blood, this product helps reduce the LDL in my blood & get more HDL"
– Che Zaoton Binti Isa, Malaysia
"Made me feel with more energy"
– Jorge Fernandez, United States 
No more offers for this product!