By purchasing this product, you can earn points based on a percentage of cart total. You will come to know the earned points information once you add the product to cart.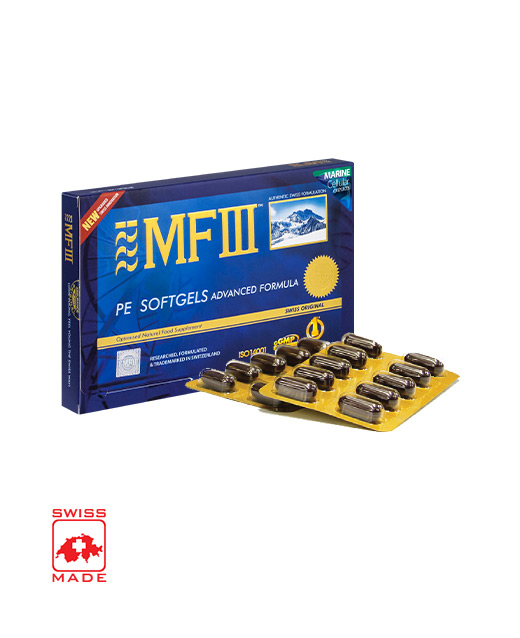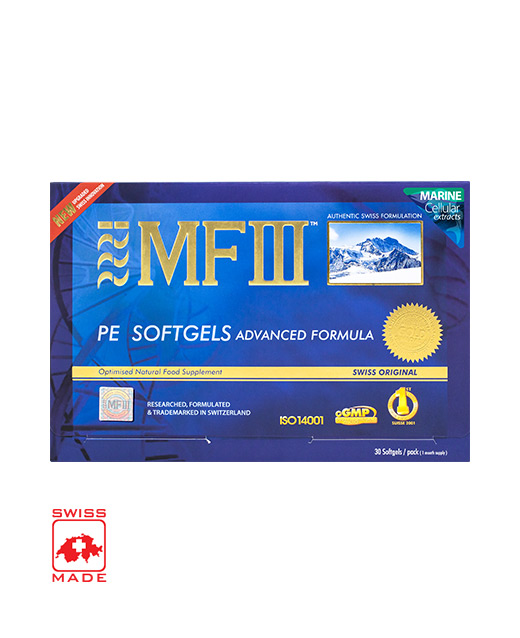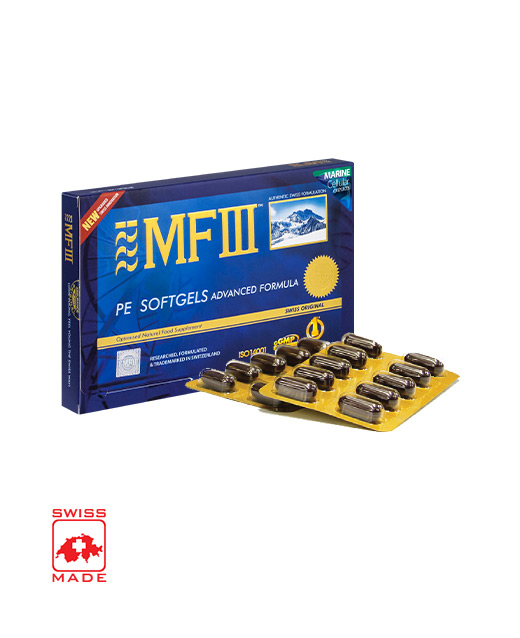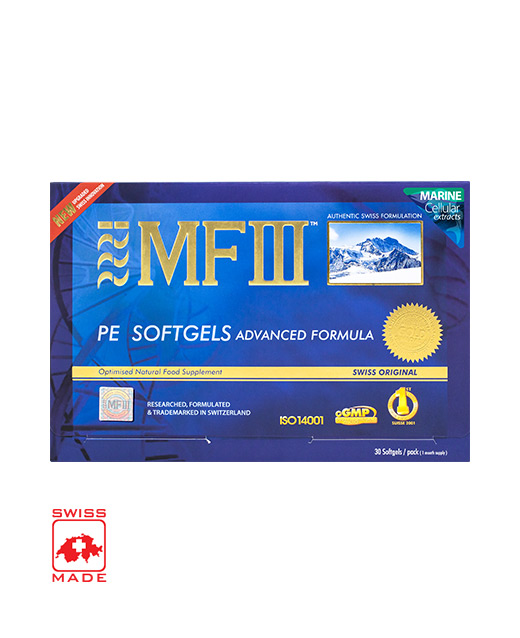 PE Softgels AF with Marine Cellular Extracts
$264.00
Premium Marine Cellular Extract, fortified with plant extracts – an anti-aging supplement for promoting cellular renewal, immune system health, musculoskeletal health and complete wellness.
SKU:

PE-fish
Categories: Advanced Formula (AF) Series, Energy / Stamina, Healthy Aging, Immune System, Musculoskeletal Health, Nutrition, Overall Wellness, Skin Hydration, Supplements, Wrinkles, Youthful Skin
Compare
Compare
Description
Recommended Intake
Contraindications
Additional information
More Offers
Description
PE Softgels Advanced Formula with Marine Cellular Extract, or PE Marine, is one of MF3's latest health supplements. It contains a high concentration of marine cellular extract packed with dietary nucleotide content, amino acids profile, antioxidant, antimicrobial and photo-protective properties to support the body's musculoskeletal health, ensuring optimal function of the immune system and promoting healthy, firm skin.
BENEFITS OF PE SOFTGELS AF WITH MARINE CELLULAR EXTRACT
Immune System
Support the normal function of immune system and offer antioxidant
Cellular Regeneration
Support cell renewal, build and repair worn out tissue
Physical Performance
Improve physical vitality, energy & stamina
Musculoskeletal Health
Support & promote regenerations of muscles, tendon, ligament, bone, joint & cartilage
Reduce joint inflammation (arthritis, osteoarthritis & rheumatoid arthritis)
Improve Skin Texture
Increase dermal density and reduce appearance of wrinkles
Improve Skin Appearance
Increase the hydration of skin for luminous skin
Detoxification
Detox free radicals & reduce oxidative stress
Protect from cellular damages
Photoprotection
UVA & UVB protection
Reduce cellular sun damages
Antioxidant
Marine Cellular Extract
Marine Cellular Extracts is extracted from fish milt through an original process done in water phase that preserves the polymerized form of fish milt DNA.
Marine Cellular Extracts possesses various biological properties such as antioxidants, antimicrobial, photo protective, and anti-photoaging activities. It helps to improve physical performance, support musculoskeletal health, stimulate immune system, and stimulate the production of healthy collagen and elastin in skin.
Vitis vinifera
Vitis vinifera is derived from the seed of a grape that possesses potent antioxidant activity due to its oligomeric
proanthocyanidin content. it also offers anti-inflammatory benefits and rich in vitamin c that helps to promote
skin health.
Coenzyme Q10 (Ubiquinol)
It is an advanced form of CoQ10, an active antioxidant in the most bio-absorbable form, offering significant
benefits in overall health and skin.
1 softgel daily, ½ hour before meal, preferably in the morning on an empty stomach. Maximum 2 softgels daily.
Box of 30 softgels
For further consultation on the product, please email your inquiry to nutritionist@mf3swiss.com.
Not recommended for those who have allergies to shellfish, prawn, or fish, and may not be suitable for those below 18 years old. For those with chronic diseases or are currently under medication, kindly consult your doctor/dietitian/nutritionist before taking the supplement.
Additional information
| | |
| --- | --- |
| Weight | 1 kg |
| Dimensions | 3 × 26.3 × 17.5 cm |
No more offers for this product!