By purchasing this product, you can earn points based on a percentage of cart total. You will come to know the earned points information once you add the product to cart.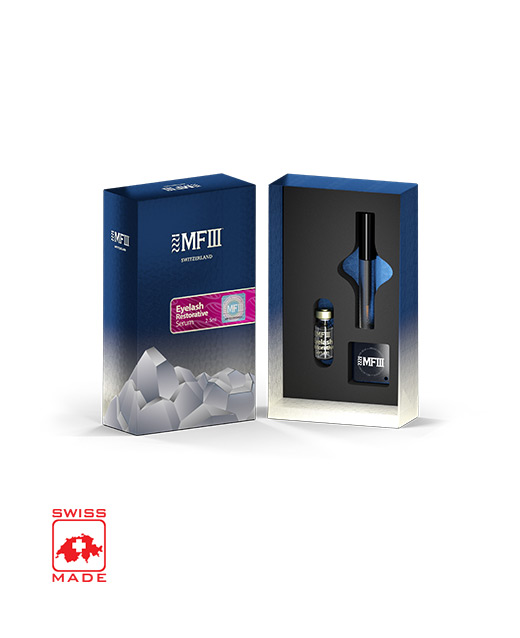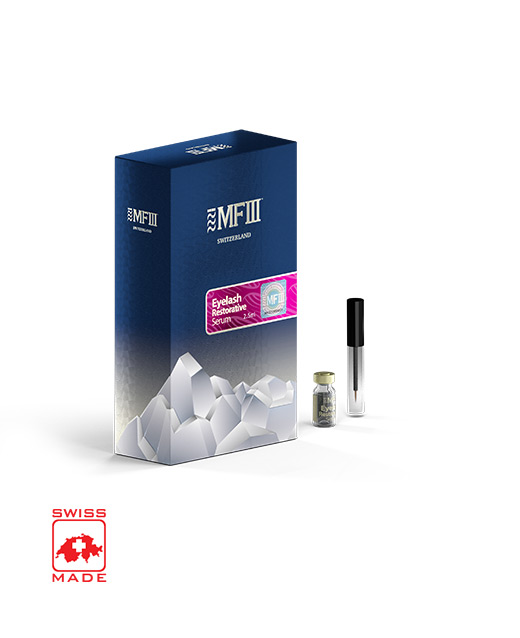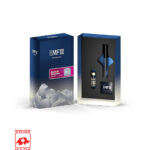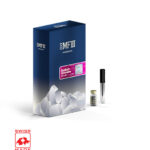 Eyelash Restorative Serum
$150.00
Naturally Beautiful & Healthier Eyelashes
Have you always desired naturally longer and thicker eyelashes that make your eyes look mesmerizing?
With MF3 Eyelash Restorative Serum, your dream lashes are within reach.
Compare
Description
How to apply
Additional information
More Offers
Description
THE ULTIMATE SOLUTION TO
healthier and more beautiful eyelashes
About the Human Eyelashes
The anatomy of the eyelash and hair have some similarities as both have a hair shaft that extends outside of the skin, a root under the skin and a bulb. Eyelashes have an average length of 12mm, with a life cycle that ranges from 4 to 11 months.
With Eyelash Restorative Serum, eyelash growth can be enhanced as its life cycle is extended and follicles are nourished from deep within for healthier, longer and thicker eyelashes.
The premium bioactive ingredients of the Eyelash Restorative Serum is placenta extracts that are rich in amino acids, peptides, polydeoxyribonucleotide and vitamins. Eyelash growth and density are greatly improved through the nourishment of rich vitamins and minerals, and the enhancement of vascular endothelial growth factor (VEGF) and insulin-like growth factor (IGF) expression in the hair follicle bulb.
What makes MF3 Eyelash Restorative Serum amazing?
Hypoallergenic formula
Easily absorbed into eyelash follicles with its low molecular weight of 10kDa nano peptides
Contains natural peptides
Contains Key bioactives: insulin-like growth factor and vascular endothelial growth factor
NO preservatives
NO parabens
NO alcohol
NO animal testing
How does Eyelash Restorative Serum works?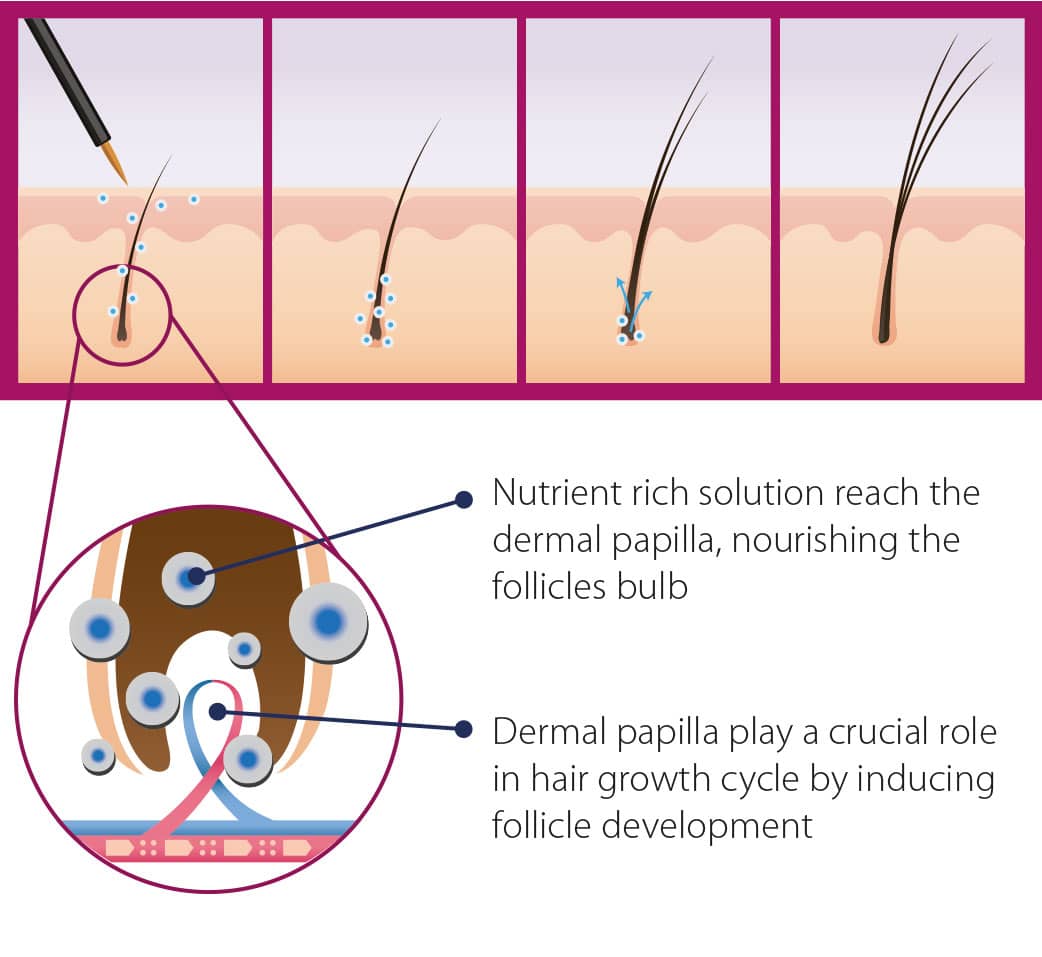 Eyelash Restorative Serum contains bioactive ingredients that are small enough to penetrate the eyelid and reach the eyelash follicles and dermalpapilla, bringing key mesenchymalepithelial interactions in follicle cycling.
Once the bioactive ingredients reach the eyelash bulb that is in direct contact with the dermal papilla, the expression of a growth factor such as IGF is enhanced, which then promotes the cell division of the hair matrix cell for eyelash hair growth. Increased expression of growth factor in dermal papilla helps to extend and maintain the anagen phase to the maximum capability.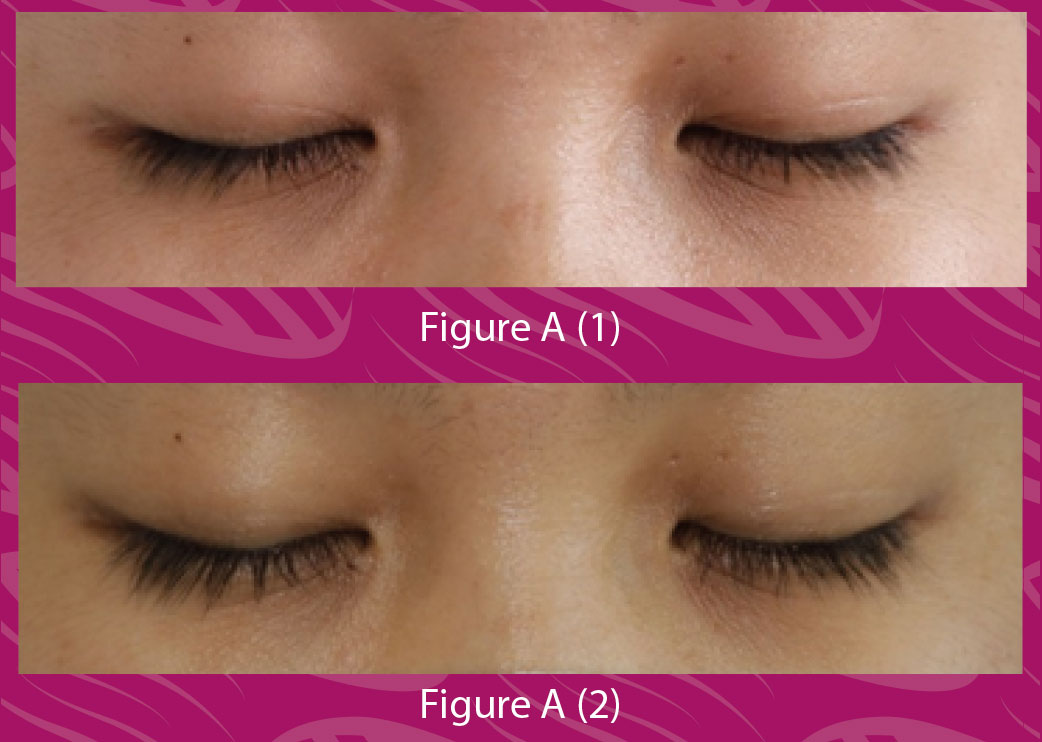 Figure A demonstrates the subjects GEA scale evaluation at baseline (1) and at the end of week-12 (2). The baseline GEA scale evaluation for this patient was GEA scale: 3 at baseline and it then further improved at week-12 to GEA scale: 4
Reference
Alvin G, Chernykh V, Chan M (2020) Peptides: A Novel Approach to Enhance Eyelash and Eyebrow Growth. J Dermatolog Clin Res 8(2): 1137.
This product is recommended/featured by medical specialists and researchers in the following publications/clinical trials: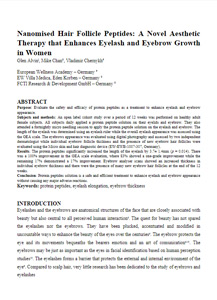 Nanomised Hair Follicle Peptides: A Novel Aesthetic Therapy that Enhances Eyelash and Eyebrow Growth in Women
Author(s): Dr. Glen Alvin, Dr. Vladimir Chernykh and Prof. Dr. Mike Chan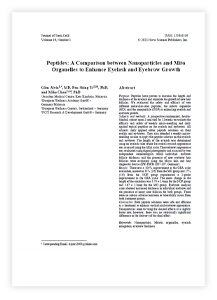 Peptides: A Comparison between Nanoparticles and Mito Organelles to Enhance Eyelash and Eyebrow Growth
Research Article
Author(s): Dr. Glen Alvin, Dr. Shing Yi Pan and Prof. Dr. Mike Chan
Publisher: Nova Science Publishers, Inc. Journal of Stem Cells ISSN: 1556-8539, Volume 16, Number 1, May, 2021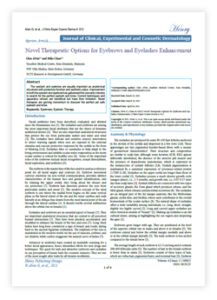 Novel Therapeutic Options For Eyebrows And Eyelashes Enhancement
Author(s): Dr. Glen Alvin and Prof. Dr. Mike Chan
Publisher: Henry Publishing Groups | Alvin G, et al., J Clinic Exper Cosme Derma 4: 013, April 06, 2021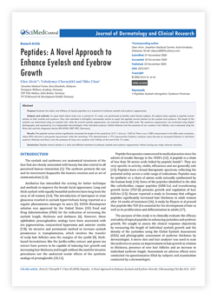 Peptides: A Novel Approach To Enhance Eyelash And Eyebrow Growth
Author(s): Dr. Glen Alvin and Prof. Dr. Mike Chan
Dr. Glen Alvin, Dr. Vladimir Chernykh and Prof. Dr. Mike Chan
J Dermatolog Clin Res 8(2): 1137, ISSN: 2373-9371, 25 November 2020
Published URL: https://www.jscimedcentral.com/Dermatology/dermatology-8-1137.pdf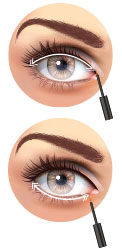 Eyelash Restorative Serum can be used daily, preferably once at night before skin care routine for ultimate result.
Eyes should be completely clean from makeup or cream before application, ideally after cleansing.
With one stroke, glide the applicator brush along the upper lash line going from the inner part of your lash line to the outer part. Repeat this step with the lower lash line.
Clean the applicator, let it dry, and store properly for the next application.
For further consultation on the Eyelash Restorative Serum, please email your inquiry to nutritionist@mf3swiss.com.
No more offers for this product!